EXCLUSIVE DISCOUNT OFFER: 'Ultra-Compact Reflex Hammer'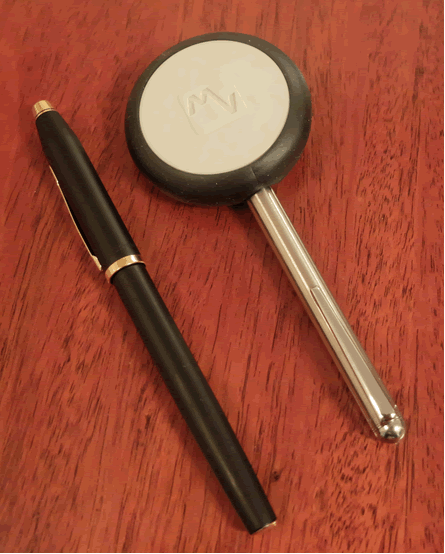 A few weeks ago we were sent a brand new "Ultra-Compact Reflex Hammer" by Medivention, a medical innovation start-up. Founded by a urology registrar, the company has set out to improve the day-to-day efficiency of doctors on the ward.
The tendon hammer arrived in a smart small package, small enough to fit through the letter box. Once out of the box, its clever compact design required only brief instructions. The telescopic handle has a hinged round rubber-ringed head, as seen on other tendon hammers. The Medivention team have designed a novel catch mechanism to hold the head flat when you need to use it.
When folded up the tendon hammer is, as advertised on the packet, roughly the same size as an iPhone 4. It's got a handy clip on the end so, just like a pen, you can hook it on to a free pocket.
So, how did it fare on the wards? Packed in my back pocket for a week of 'Take', I didn't even notice it after the first half an hour there. However, it cut the standard 5-minute hunt for a tendon hammer on the ward down to a 5-second look in my back pocket. The value of a full neurological examination in any acute medical patient is frequently underestimated, and the ease with which this model can be used makes a neurological assessment so much easier to complete.
The key to the success of this hammer is the locking mechanism for the head - discrete but much stronger than other collapsible tendon hammers that I've used. When the telescopic handle is extended, it has a similar size and feel to the full 'Queen Square' hammer that is found in hospitals and exams.
Verdict: Impressive! The clever design makes this a credible time-saving tool for any medical student or junior doctor.
Standard price: £17.99 inc VAT (Delivery: £3)
**DISCOUNT: Exclusive for the OSCE-Aid community, Medivention have given us a discount code for £5 OFF the standard price – don't miss out! Enter the code "OSCE1" at their website: www.medivention.net**
written by: joel_cunningham, first posted on: 06/05/16; 00:40

Comments:
Make a comment: